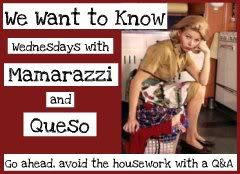 1. What is your favorite holiday?
I don't think I have a favorite! I really do love them all. I especially love Halloween and Christmas though.
2. Do you have any fun holiday traditions? What are they?
The kids get to open PJs on Christmas Eve. And everyone gets to choose their favorite appetizer and we all gather in the kitchen and make the food! That is our dinner on Christmas Eve.
We have a week long celebration for Easter. It's a special time in our house.
And every Labor Day we head up the canyon with the Hubs' family for a weenie roast. It's so much fun to let the kids run and get dirty while the adults play games and talk! Love it.
3. When do you start Christmas shopping?
December 24th! Kidding. I usually start sometime after Thanksgiving.
4. What is your favorite holiday food?
It isn't Christmas without Red Hot Punch. I can't remember a Christmas without drinking that.
5. Share a favorite childhood holiday memory
My parents borrowed a little RV from our dentist for Thanksgiving. We ate Thanksgiving dinner on the beach! It was awesome!
6. Have you ever actually tried fruitcake??
Of course! And guess what? I love the stuff!